Marking the midpoint of the 2030 Agenda for sustainable development, on 18-19 September, during the United Nations General Assembly high-level week, world leaders will assess the progress of the 17 Sustainable Development Goals (SDGs) at the UN SDG Summit, in UN Headquarters, New York.
According to the Sustainable Development Goals Report 2023: Special Edition, data shows a sobering reality: progress is insufficient on 50 per cent of targets of the SDGs; on 30 per cent, it has stalled or gone into reverse. These include key targets on poverty, hunger and climate. The report sounds the alarm and calls for a full-fledged rescue plan for people and the planet.
Cooperatives, being explicitly recognised as partners in the implementation of the 2030 Agenda for sustainable development, can be effective allies in putting SDGs back on track. Not only does the cooperative movement represent 10 percent of the world's employment and is active in all sectors of the economy, but it has a proven track record of delivering sustainable and inclusive transformation at local, national, regional and global level.
Guided by the cooperative values and principles which are clearly in line with the Global Goals, the cooperative business model contributes to meet the targets of the SDGs by operating in its cooperative way.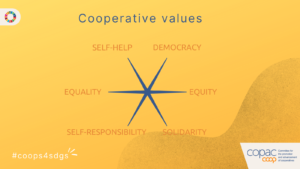 Cooperatives use the first-person plural to conjugate. They use "we", not "I". Active at grassroots level, they are democratically accountable businesses that respond to economic, social, and environmental needs. This means that cooperatives are powered by collective action and build long-term sustainable business projects that go beyond economic gain.
How the cooperative movement can deliver sustainable and inclusive development
Multiple examples across the world demonstrate the contribution of cooperative organisations to different SDGs. From self-organised waste pickers to formalise informal work in recycling value chains and promote circular economy in Brazil, to women engaging in a platform cooperative to improve working conditions and build on open data digital solutions in New York. Delivering in sectors such as farming, finance, industry, fisheries, retail, banking, insurance, housing, and health care, cooperatives can play a critical role in advancing targets on the elimination of child labour, poverty reduction, gender equality, decent work, sustainable cities, and climate change, among others. Strongly interconnected in dynamic and solid networks glued by solidarity ties, cooperatives can also play a decisive role in revitalising the global partnership for sustainable development.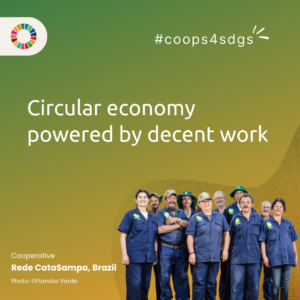 A multilateral response to put SDGs back on track
The global cooperative movement recognises the urgent need of a multilateral effort towards a paradigm shift to redress the current situation. Firmly committed with their members and the communities in which they operate, cooperatives strive for making SDGs a reality.
>> Follow our social media campaign #coops4sdgs